The smart guide to your language stay in Montréal: everything you need to know
---
Montreal is a historic and cultural city that ranks among the most dynamic in Canada. To make a linguistic stay in Montreal is to rub shoulders with people with a big heart, open-minded and warm. Do you want to know more before your departure? We tell you everything about this beautiful Canadian province.
MONTREAL IN SOME KEY POINTS



To get an idea of ​​the metropolis of Quebec, which is also the second largest city in Canada, here is his identity card.
Population

: 1.9 million inhabitants


Area

: 365 km²


Nicknames

: the city with the hundred spiers or Amsterdam of North America


Currency

: the Canadian dollar


Languages

: French, English and Quebec


Politics

: the Mayor is a woman, this is Valérie Plante. She was elected in November 2017.

But Montreal is not only that, it's also full of surprises to discover.
THE CLIMATE



In Montreal, the four seasons are beautiful and very present. The summer is very hot, and the winter very cold! The landscapes are absolutely different according to the months and the discovery will be unique. For a linguistic stay in Montreal, there is no good time. It depends on what you like. Some come back several times, once in summer and one in winter, to see the city from all angles.
Autumn

(September to November): it is a little cool, with some gusts of wind. The color of the leaves of the trees is a spectacle of beauty.


Winter

(December to February): it is VERY cold. Temperatures can go down to -40 ° C. It is important to be well equipped to support being outdoors, even if the sun is present.


Spring

(from March to May): winter is leaving, giving way to milder temperatures. However, it is not uncommon for snowstorms to occur in April.


Summer

(June to August): heat is everywhere and moisture is gaining ground. In contrast to winter, here the mercury can reach 35 ° C. All under the air!

If you are really looking for the best time to go to a linguistic stay in Montreal, we advise you from June to September. It is nice to walk the streets and the animations are numerous. For the less cautious, winter remains a must!
USEFUL AND UNUSUAL INFORMATION



Doing a language study in Montreal is not easy. The city is big and is full of little treasures. Some information may surprise more than one, yet all this is true!
TRANSPORTATION



Traveling to Montreal without having a car is easy. The heart of the city and the essential activities are concentrated. Walking in the city is very peaceful, and can discover unexpected places at the bend of a path.
For those who prefer to use public transportation, the Montreal network consists of buses and a metro. The price of single tickets is not extremely expensive for a big city. But if during your language stay you want to move often, privileges the OPUS card that will allow you to benefit from cheaper rates over the long term.
Thanks to safe, clean and maintained bike paths, cycling in Montreal is a breeze. There are more than 500 kilometers of prepared trails. What to do pretty walks all around the city.
THE COST OF LIVING



North America is a continent known for having a higher cost of living than in France. Canada is no exception to this rule. For your linguistic stay in Montreal, there are two things you need to know.
THE TAXES
In Montreal, and like everywhere else in Canada, prices are always displayed excluding taxes. What you will be asked for will always be higher than what you read on the displayed label. In percentage, they are between 15 and 20%.
Sometimes, some institutions specify that the prices shown include taxes. Same for transport tickets, the tax is already on it. In general, it is mainly on consumer goods such as food, clothing, cosmetics ... that taxes must be added at the end.
THE TIP
Important information to know during your linguistic stay in Montreal, the tip is mandatory. You have to leave about 15% of your bill in tips. It is very frowned upon to leave a smaller sum.
Tip is only allowed if the service is done at the table. If you go to fast food and you get your order at the counter, you do not need to give more.
To calculate the tip, add the two taxes indicated on the note, the TQV and the TQS. But tip suggestions can also be included. For drinks in bars, a drink = $ 1 tip. It's even easier in this case.
FOOD AND DRINKS



The image of Canada in terms of gastronomy is maple syrup and poutine. Of course, if you miss this light dish during your language study stay in Montreal, you'll be sad for life! But there are other dishes that Montrealers love. According to a study led by Massive Health, here are the most consumed products.
MAPLE SYRUP
In Montreal, we consume five times more maple syrup than in other cities in Canada. And there are 6.19 times more maple-flavored foods here.
SEEDS
The fashion of healthy food has touched Montreal. The locals pay much more attention to their diet by consuming quinoa (1.55 times more quinoa consumed than in the rest of Canada). They also eat more flaxseed than in other countries.
SUBWAY
In Montreal, we try to eat better but the fast-food Subway knows a great success. We eat 3.46 times more sandwiches from the chain than elsewhere.
THE BREAD
Unlike many Americans, sandwich bread is not the food of choice for Montrealers. We prefer Naan bread which is an Indian bread. During your linguistic stay in Montreal, you will find a little everywhere and different flavors. There are even thickets of fresh cheese.
COFFEE
True coffee lovers, Montrealers taste 8.64 times more espresso lengthened than the average. The coffee shops are held at every street corner and you take your cup before going to work.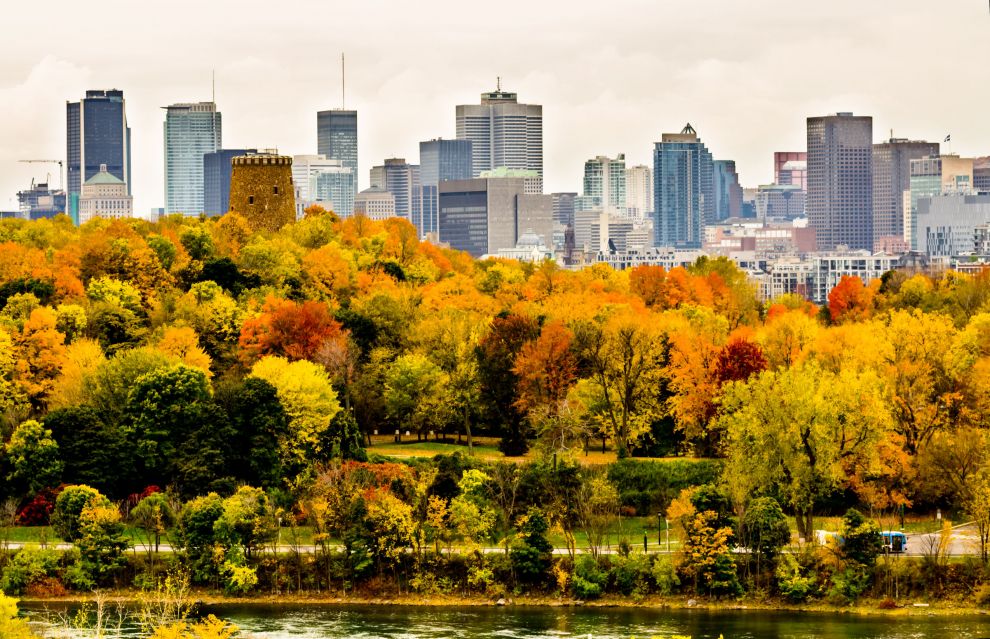 ZOOM ON THE POUTINE



We could not talk about Quebec gastronomy without dwelling on poutine. This name necessarily tells you something and you must absolutely test it during your language stay in Montreal. The dish consists of a plate of fried potatoes thick with a thick brown sauce and fresh cheese in "droppings" (or grains for us). There are other more or less original alternatives, but this one remains the traditional recipe.
THE PREPARATION
The manufacture of poutine is an art. Already, the fries must be fresh and crispy. We first put the cheese before the sauce. The secret is to put a little grain in the middle of fries, before putting the dose on top!
GRAIN CHEESE
The cheese in grain is also called cheese in droppings or skouik-skouik cheese. When he comes in, he makes that kind of noise. But what is his story? Many legends fight duels.
The Queen
At the time of the queen, it is said that cheddar cheese was in great demand. One day, she asked her employees. They went to get some but the cheese was not salted, nor pressed and always in the form of grains. Everyone was pleasantly surprised by the taste and it was marketed under the name of the queen's cheese.
Milk
Another version of the story tells that one day, a surplus of milk saturated the factories. In order not to lose their production, farmers sought a solution so that they could sell their stock and invented the cheese in poop.
It's up to you to finish the one that seems most credible to you. In any case, poutine remains a must in your language stay in Montreal.
TASTE A POUTINE
Top 3 best places to eat a good poutine:
La Banquise at 994 Rachel Street East
Maam 'Bolduc at 4351 Lormier Avenue
Royal Burger at 3820 Saint Laurent Boulevard
USE OF THE TU FORM
Ok for us French pure strain, the tu you are not at all common. As soon as we meet someone for the first time, we always see him. Well in Montreal, we forget this habit and we tutoie.
Bus driver, shop assistant, baker, everyone is in the same boat. "Hi, how are you doing? This sentence is likely to be heard often during your linguistic stay in Montreal.
Quebeckers are so fans of "you" that they add it everywhere. "Can you give me a hand? Is perfectly French ... Quebecois!
IMPROBABLE FACTS



Montreal has not finished surprising you. Here is a list of unusual news about the city. You will be able to shine in front of your friends during your linguistic stay in Montreal.
ECOLOGY
Montreal is a green city. 1,200,000 trees were identified in the 129 parks in the Ville-Marie borough.
FOOD
The inventor of peanut butter was born in Montreal, it is Marcellus Gilmore Edson.
44.4% of Montrealers consume five fruits and vegetables a day recommended by the Ministry of Health. The city is at the top of the overall ranking!
The city has 7.5 bars per km² and above all 14,000 restaurants.
SPORT
Every year, since 1880, the first captain who crosses the Atlantic, nonstop, with his boat is given a gold cane.
We can surf in Montreal because several spots exist. From waves for beginners to rolls of more than a meter 80, everyone can find his account.
PLANNING
Boulevard Gouin has a street extending for 50 km.
Montreal is composed of 6,550 km of sidewalks for 4,100 km of roads.
LOCATIONS NOT TO BE MISSED
As in all cities, there are places not to be missed when you come to language study. Here are the places to be in Montreal. We are waiting for your souvenir photos!
THE MONT ROYAL PLATEAU
Located high up, the Mount Royal Lookout offers a breathtaking view of the city to anyone who dares to climb the hill. The neighborhood is very eclectic and trendy. It collects many thrift stores and other shops with more or less original facade.
THE BEACH OF THE CLOCK
Yes, there is a beach in Montreal. Fine sand, deckchairs, umbrellas, it's almost like being in the tropics. But we are at the edge of the Saint Lawrence. To access this little corner of paradise, it will cost $ 2 per person. A refreshing getaway that is very popular in the summer.
THE DISTRICT OF SPECTACLES
A true fief for art lovers, the Quartier des Spectacles is the favorite place to complete your Instagram feed. Street art, concerts, exhibitions ... there are hundreds of cultural venues.
ROUND
If your language stay is from mid-May to the end of October, you must go to La Ronde. This is a seasonal amusement park where thrills are guaranteed. If you like the big 8 extreme and the rides upside down, do not hesitate to go there.
The wonderful places are numerous but are not alike. Do not hesitate to discover the city from your first day.
To do a linguistic stay in Montreal is to make sure you have unlimited memories to tell your loved ones. It is also a unique experience to learn English in a warm and welcoming city. We will not hide it, those who go to Montreal for the first time have only one desire to return.